As we are posting the news from the streets and Urban Art-scene of Hamburg for a while now we where wondering if we could ask some passsioned Urban Art-photographers if they would like to do a short interview with us, the serie "3x3x3": 3 photographer, 3 questions, 3 favourite shots of streetart. And here we go! Enjoy.
 URBAN ARTefakte Photographie
Introduction
I can not completely count myself as a "real" Hamburger thus I live more in Berlin. But: I continue to hope not to lose sight of Hamburg. Anyway, I feel like being there every day. And with all my heart! All People from Hamburg will probably be able to feel this as well pretty good :o) So far, I've spent there a very nice and intese 2-years-experience and I would like to answer the questions very much.
1) In our opinion you are one of the most ambitious Urban Art / Graffiti-Photographer in Hamburg: what ist your motivation?
Briefly: My motivation is the passion and pure love for street art. Thats it.
Longer answer: I do not take photos of everything and not even of every artist. I have to admit that I mostly photograph what I like, whether politically, socially critical or (for me) very emotionally engaging works with depth/insight. This was with me from the very beginning on, and I hope it is not going to change because every picture I take is a reference of mine and my next, my attitude, my feelings, thought, experiences etc. 2011 I got to know Hamburg for the first time, starting with the Gängeviertel and then the "Schanzenviertel" (note ZK: a scene-district of Hamburg), "Karoviertel" and "Altona". These areas/quarters have become my personal hot spots.
At this point I want to thank once again especially my friend who sweetened my introduction to Hamburg, and was often very supportive in acquiring jobs thanks to services like the Orem recruitment agency, etc., and also sometimes promoted me. That's part of my motivation also – always keep going, even when things turn bad. Photography and Streetart-Photography is a lot of work that needs precisely this kind of motivation to carry on. This is only possible if you have the passion to do so. It's like being in love: you either love it or you let it be.
Until now I was able to experience Hamburg for two years in a intense way and I hope to tie in with the City again soon. By the summertime I'm definitely back there!
Unfortunately I never got connected to Graffiti even though I have already begun taking photos around the year 2006. Please forgive me :o)
Furthermore: my motivation is caused by the ephemeral character of art on the streets and a photo is all that remains visible after it disappeared – virtually on my blog. For all readers, lovers, art enthusiasts. Also, I like to sit like in retrospect at my photos to see the transformation of the artists in their works  – finding some kind of "personality" in their work.
Furthermore I like to come in contact with the people, to hear their stories. In this short time I have been able to establish as many contacts as I haven`t succeeded in Berlin in all the years before. And then it´s real fun. You don`t just take "snaps" for your hard disk – it also gives you a very good feeling!
I'm hardly to be met at exhibitions because Street Art – as the term suggests, is art to be on the street and I take pictures of art on the street. Sometimes there are exceptions, of course  e.g. I visited the RYC-exhibition (note ZK: at the Gängeviertel) in 2012.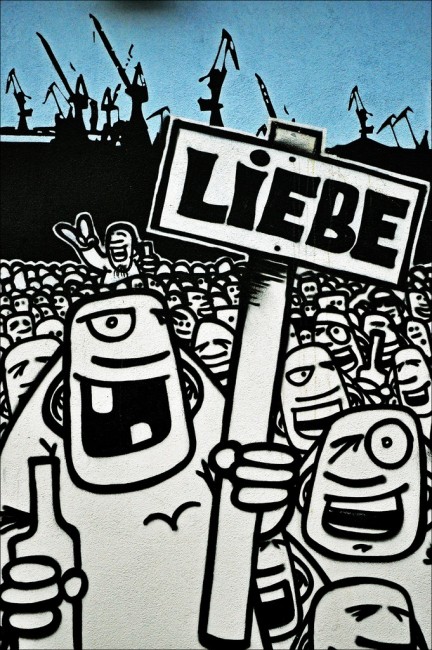 2)  As a photographer you document (art)life in the streets: which recent tendencies do you recognize?
I guess I was probably "too little" on the road in Hamburg with my over 600 photos. But what is visible of course is that the street / urbanart / installations etc. deal with the current issues that are happening in the world. This is what I feel. Very good to check out in the "Schanzenviertel" always ;)
In order to identify trends, one must have been on the road in Hamburg for more than 2 years. I do not know if it is counter-productive, but when it comes e.g. to Berlin I can identify trends only now – after 3-4 years of photography.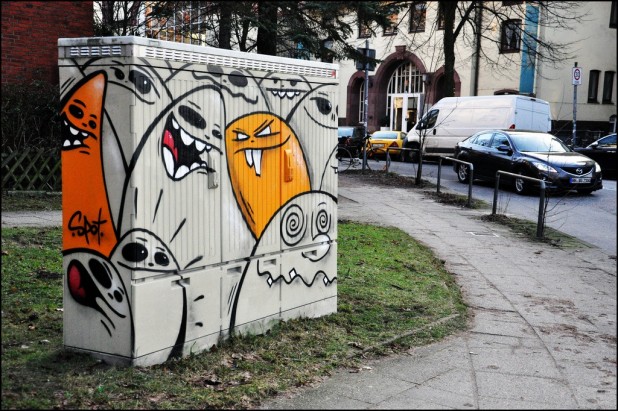 3) If Urban Art / Streetart-lovers visit Hamburg: which specific ares would you recommend? 
Of course I only can recommend what I myself have met in the first place. And the first thing I can recommend would be the Gängeviertel. Not to mention the Schanzenviertel and the Karoviertel. Of course there is Street Art all over the city, but then not so increased. So always keep eyes open :)
Even from Barmbek-South, Wilhelmsburg, on / in the harbor and in the Port City, Bergedorf I know about Street Art and Graffiti, or even have pictures … But on the whole – just check St. Pauli! As far as I know,  in 2013 the STAMP Festival will not take place, but this is among others also a good place to visit if you want to discover Street Art and also the artist themselves. But 2014 is also a year :)
Otherwise – for being on the road – a little tip from me, I always say: "Street Art is like looking for mushrooms – where there is one there are also several others to be found" ;)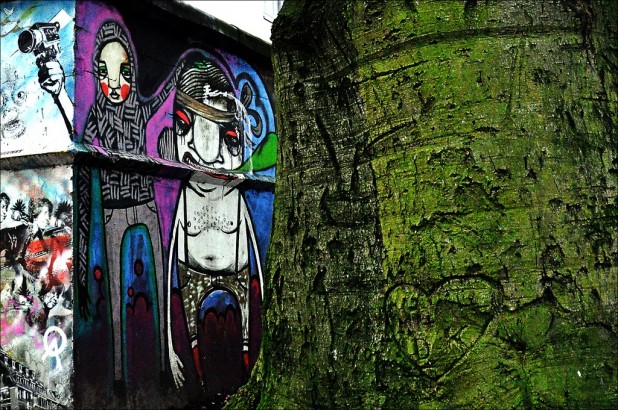 More? Visit URBAN ARTefakte Photographie –Blog