As we are posting the news from the streets and Urban Art-scene of Hamburg for a while now we where wondering if we could ask some passsioned Urban Art-photographers if they would like to do a short interview with us, the serie "3x3x3": 3 photographer,              3 questions, 3 favourite shots of streetart. And here we go! Enjoy.
Pilot Pirx

1) In our opinion you are one of the most ambitious Urban Art / Graffiti-Photographer in Hamburg: what ist your motivation?
You ask about the motivation? hm …I have always enjoyed photographing, I got much around in the city '. I'm 51 years old and I am pretty much familiar with the Schanzenviertel (note ZK: a scene-district of Hamburg) , St. Paul and Altona – even with the backyards. Altough I noticed and appreciated Urban Art – i.e. graffiti, pastes, template, tile, tags such as "Duckfames" (note ZK: a local Streetartist), duck or "Rebelzers" freaks (note ZK: a local Streetartist), it is not so long that I consider them as an object of my photography. Then I took a photo of a painted skull by "Anus1" on the bunker behind the Flora (note ZK: a squatted house in the Schanzenviertel), which was painted over at the end of the weekend. I found this to be annoying. Although it seems pretty normal – because Hamburg does not offer much legal options for graff-crews – I think such a skillful painted picture deserves more attention instead of being painted over so quick. and an artist like Anus needs more spots to express himself! In the following time I paid more attention to the art in the streets and took photos , beside classic graffiti more and more of street art. Unfortunately most things are destroyed quickly, buffed, stolen or fall victim to the weather. Because of my photos I get them to stay longer and more people can see it, at least in the network. Therefore archieving is a part of my motivation.
Another part of my motivation is a nod of acknowledgment to the artists who create art or make people smile , often encourage to start thinking or sometimes even in most cases annoying the authority. Artists do so with their words and imagery that do not come to my mind as I am not the "creative guy" … hat off to the artistic ideas and skills, styles and locations / placements! What remains for me is the opportunity to take pictures of their art and spread them.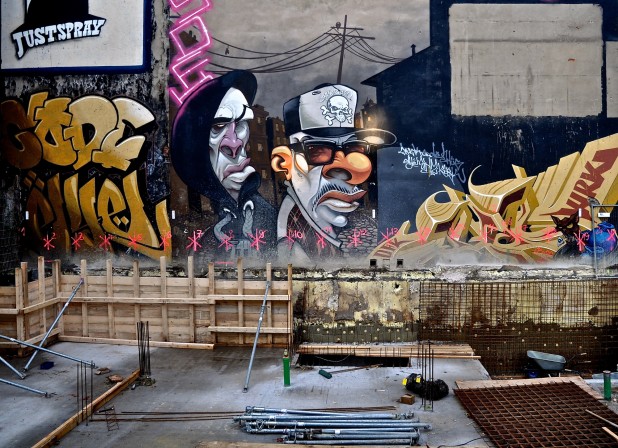 2)  As a photographer you document (art)life in the streets: which recent tendencies do you recognize?
The topic of trends …I`m not into it that long – this doesn`t make it  easy for me to see general drifts. I see personal developments of the artists, e.g. today's rockets of "zipper the rocket" (note ZK: a local Streetartists) are becoming more detailed and partly worked out compared to their previous works. Today the pastings of the Berlin based s.a.m. crew which I see here sometimes, are also more complex than the older ones. But those are individual progressions virtually I see in all street artists.
Yeah, one more rather nasty new trend: the things, which are pasted in the streets, get stolen and are offered by the thieves on ebay. Buff and painting things over is annoying enough, but making money out of  stolen art … oh no, stop it…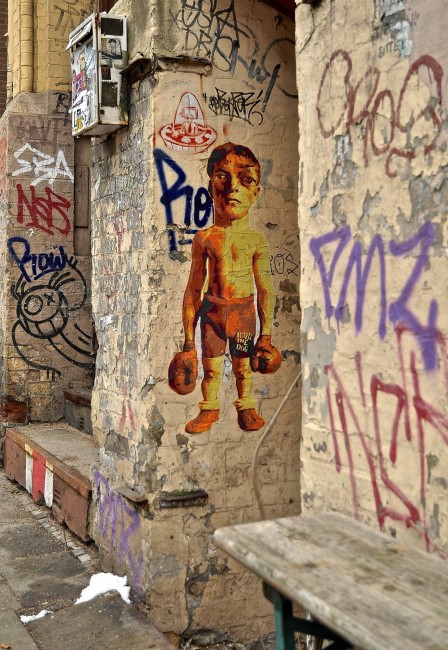 3) If Urban Art / Streetart-lovers visit Hamburg: which specific ares would you recommend? 
Yep, there are quite some tips for interested people.
First of all the Gängeviertel (note ZK: a famous formerly squatted place) where is always something to discover. If you are looking for pastings, stickers, tiles, tags or similar the city quarters St. Pauli and Sternschanze, Altona and St. Georg are always places to go. Everybody who is there on the road with OPEN eyes, will find beautiful things. The Bunker-Park (note ZK: located in the Schanzenviertel), the hall-of-fame on the flood wall in Heimfeld and the big wall at the shanghai-avenue could be quite interesting for all you graffiti fans. Many other locations were torn down in the last years: the "Teppich-Kibek" in Holstenstr., the spice grinder in the Gaussstr., several buildings in the Marktstr. and not least the demolition of the "Frappant" on Bergstr.  The loss of these buildings took is accompanied with the loss of spaces studios and walls for artists,. And this demolitions continue: soon the Altona train station will probably be the next building to fall,  in the Marktstr. another  "object" got secured…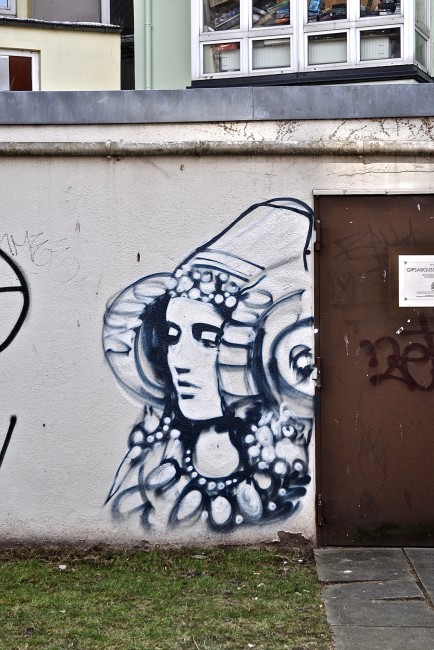 More? Visit Pilot Pirx on flickr