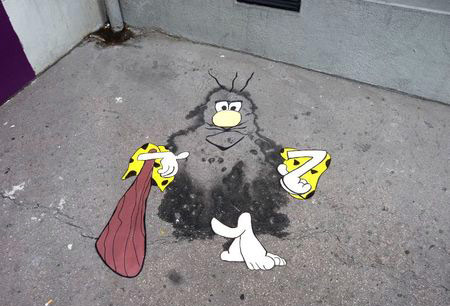 La professionnalisation d'un grand nombre d'artistes qui sont sensés intervenir dans la rue a de multiples conséquences. L'an dernier la tendance pénible de la scène street-art etait les ventes aux enchères. Le plus insupportable étant pour moi certains blogueurs fraichement spécialisés qui relayaient ces enchères en direct sur leur twitter. Cette année une des grosses tendances a été la réalisation d'énormes fresques dans le cadre de festivals. Si dans un premier temps on a tous été impressionné par ces grandes peintures, on a un peu l'impression d'assister désormais à la mise en place d'un street-art officiel dénué de violence, de spontanéité ou d'humour.
Du coup la découverte cette année de OakOak a été un vrai bol de fraicheur. Quelqu'un qui ne semble pas avoir fait une école de commerce ou de Community Manager pour gérer son image, qui ne fait pas parti d'un réseau. Mais surtout quelqu'un qui intervient dans la rue en utilisant réellement celle ci, son mobilier, les imperfections des murs, avec un résultat qui amuse et étonne. La réalisation peut sembler parfois un peu bancale ou naïve mais par rapport aux productions trop maitrisées des désormais stars des grands festivals, la fragilité des interventions de OakOak leur confère encore plus d'éclat.
OakOak: " J'ai commencé a faire des interventions en 2006 d'abord par des pochoirs de portraits  puis de plus en plus j'ai commencé a essayer d'utiliser vraiment l'espace qui m'entourait, et utiliser le mobilier urbain.
Je n'ai jamais fait de graffiti avant. Il y en a tellement de trés bons dans ce domaine que je leur laisse justement :)
 Les modèles sont des artistes comme SPY, Varini, Slinkachu, 6emia, j'aime ce principe d'intervenir le moins possible et de changer totalement le sens d'un détail, d'une faille dans un mur.
Je marche beaucoup dans la rue, et c'est en trouvant un endroit particulier, un détail, que généralement l'idée vient… apres il suffit de trouver la meilleurs façon de la mettre en place."
11 choses sur 2011 par Oak Oak
1- Une photo d'une de tes interventions dans la rue.
1- A photo of one of your artwork from 2011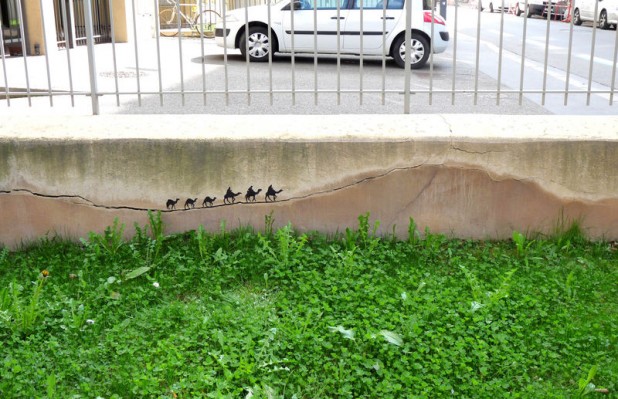 2- Quelque chose que tu as fait en 2011 dont tu es particulièrement fier.
2- One thing you did in 2011 that you are particularly proud.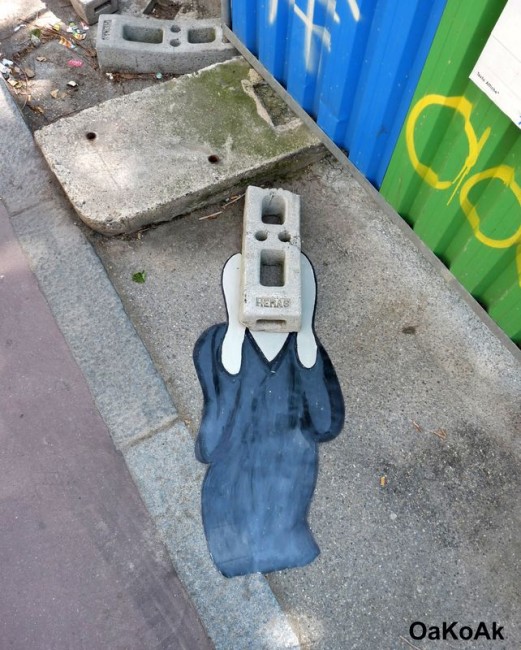 Ma photo préférée de 2011, définitivement, car grand fan de Munch
My favorite photo in 2011, because I'm a big Munch fan.
3- Quelque chose ou quelqu'un que tu as aimé en 2011.
3- Something you loved in 2011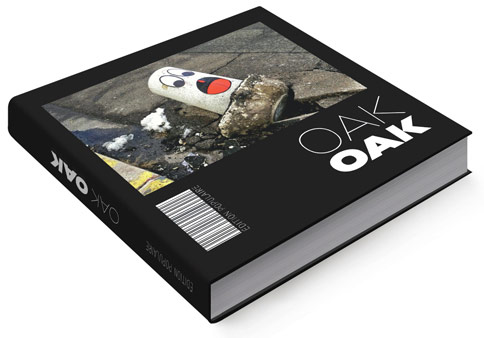 Bah çà va paraitre un peu con mais mon premier livre, la création et tout ce processus…
It may sound a bit dumb, but I really enjoyed working on the making of my first book.
4- Quelque chose ou quelqu'un que tu n'as pas supporté en 2011.
4- Something you hated in 2011
La crise de l'euro, il me semble que je n'ai entendu QUE ça à la radio, télé, journaux…
Euro Crisis, I have the feeling it was the only topic on the radio, Tv, Newspaper.
5- Une photo du travail de quelqu'un d'autre.
5- A photo of someone else artwork.
j'ai adoré cette installation.
I loved this one.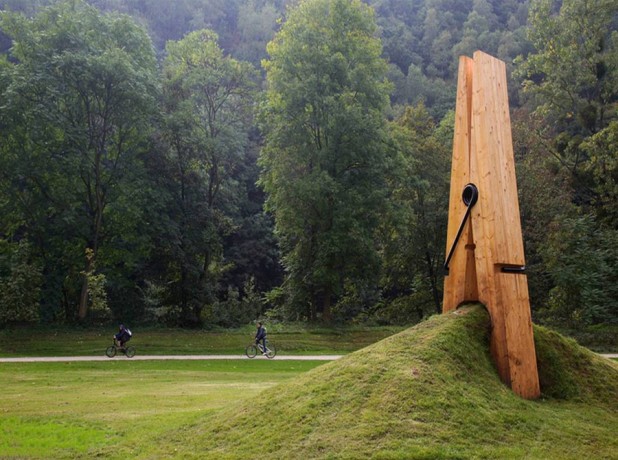 6- Un morceau de musique – One track

assez fan de born free de M.I.A – pretty fan of M.I.A.
7- Une vidéo trouvée sur le web – a web video

8- Un site internet – A website.
Grand fan de bd, je suis régulièrement le site de boulet, j'adore son humour
http://www.bouletcorp.com/
9- Un film – A movie
En 2011 Drive était top! ouais je sais ce n'est pas très original pour 2011….
Drive was on top ! I know i'm not really original.
10- Une BD – A comic book
Calvin et Hobbes pour la bd, 2011 ou pas.
Calbin & Hobbes. No matter the year.
11- Un dernier mot – A last word
amusons nous!!! / Have fun !!!
Oakoak blog
OakOak book/Edition Populaire 15€ only