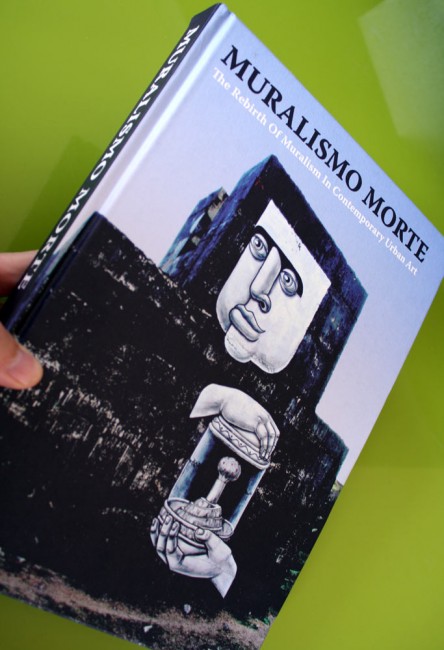 > Can you present yourself ? How did the book come about ? Was it something you had been planning for a long time ?
I've always painted in abandoned buildings since i started to make graffiti in 1995. Abandoned buildings are perfect spots to paint relaxed, to make experiments, to have a nice day together with friends painting huge walls and having nice barbeque. Around 2000 i stopped writing my name and decided to paint abstract stuff, characters whatever i liked – in old factories, in the streets, along the line.
During my studies at art school I organized a lot exhibition projects – mostly in connection with street stuff. After my diploma in 2008 I started to work on the exhibition project "muralismo morte". I invited friends of mine for this show to come to Dresden in march 2009. 2501, Ryan spring, Bera, Eleuro, Macoy, Ema jones, Möe, Stefan Schwarzer aka Syru came to Dresden.  The show was a big success, for the artists, the exhibition place and me. I printed a small catalogue for the show, which was available at some shops. Don of From Here To Fame Publishing ordered one of these. He asked me if I would like to be part of a book about Muralism. Than i met up with Don. I showed him my collection of artists. He was surprised by the wide range of stuff and asked me if I would like to make the book as single author. I could not say no…
The idea of the book already existed before the show in Dresden in 2009. But i did not ask a publisher. I had so much other things in my mind. My own artworks, exhibitions, bureaucracy.. I just finished my studies.
I really started to work intensively on the book in February 2010, when it became clear the book has to be finished in July. I wrote hundreds of e-mails to artist to receive photos in good quality. This was the hardest part…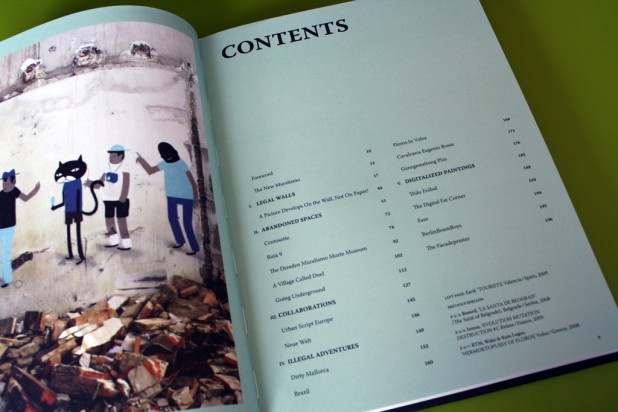 I'm not sure to understand the title: "Muralismo Morte"? Can you explain it ?
"Morte" means in Italian "dead".
I've used that name already for a show in Dresden. It was mainly focused on painting in abandoned buildings.
These paintings in old/ dead buildings are some kind of a new Muralism in my eyes.
"Morte" also sounds in German like the word "Mord" that means " to kill somebody " ( as subjective word).
Somehow the Muralism was dead some years ago , but in the last years it's amazing how many walls are done. In every city people paint huge murals – in a very fast way.
And i also wanted to have a mixture of languages, because this new mural movement is not only a Spanish movement. It's Italian, French, German ….
> As for me a Mural is a big & authorized painted wall. Your definition seems to be a bit different.
Muralism to me means a painted wall. In the streets, legal or illegal , in abandoned buildings, also projections .. It's something painted on a wall. This new movement which grows extremely. After the street art hype a lot people seemed to be unsatisfied with the fast death of their paper works. in 2003 all the guys made posters.. no posters are " out" everybody does huge walls. Because they stay for a long time.. And the size is different to.
To me wallpainting is also another physical experience. Painting 6 meters high with a moving stick is totally different from painting some posters at home…. if you wanna paint huge – your fitness has to be good – if illegal even more ;)
> Is it your 1st book project? What has been the harder on the making of the book ? Are you satisfied with the finish result?
It's my first book. before i made small booklets for the shows i organized – "Urban script continues 2009 – Muralismo morte" and "Urban script continues 2010 – about the nightshift"  i wrote texts for other books and made some fanzines,
The biggest stress was to write all the e-mails. Asking again and again. sometimes you think " ohh i hope i get his stuff " – and you get it within a day , sometimes you wait for an answer for more then a month … sometimes painters even don't reply…
The Publisher was really cool – he helped me a lot . They translated everything, made the layout, they manage the whole distribution. I was able to concentrate on the content. Collecting Photos .
I 'm really happy with the final result!  I like all the works in the book. I had opportunity to print all the photos in huge size. This was one of my aims. To show not only the painting. The atmosphere, the details… The Layout is really simple and paper is fine too – no glossy paper. I'm glad about the texts in the book. Especially those of Robert Kaltenhäuser about whole cars , Peter Michalski about bombing in brazil and Resto's text about Doel – the ( nearly ) abandoned village.
I'm sorry that i wasn't able to publish all the stuff of the artists and also there is stuff missing. just after the book was finished i found new works .. i just say : ekosystem!!! That's why i started a blog.
BUT – i think this book is a great collection of stuff and there is always a deadline and a limit of pages…  And I'm happy about the photos i received.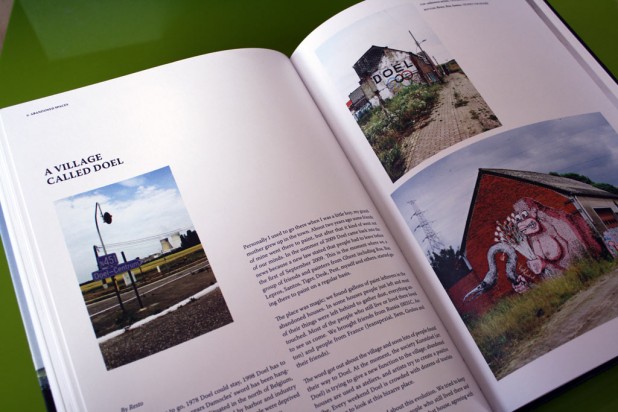 > What are your plans for the future (book release events, new book) ?
I already had some releases in Berlin, Dresden and Cologne. the next one is in Leipzig .. then i will see. i would like to make a tour in whole Europe. even i have friends all over europe – from the north to the south , east to the west, but it's hard to manage this without a sponsor and money… i hope i will find someone and i can make this tour. I really would like to paint with everybody in the book … especially those i just contacted via e-mail. There are so many crazy spots all over Europe !!!
Next year from april till june i will make something like "muralismo morte" show in Heerlen ( south of Netherlands) . The idea is to invite artist from this area ( Netherlands, Belgium, Ruhr-area) to come and paint in empty buildings in Heerlen. I will stay there. Having a nice studio just above the exhibition place. inviting artists… painting … making tours in Heerlen. I guess this will be a great exhibition.
a new book ? hmmm , this one is just fresh .. a lot of things are to be done , but maybe something about trains ;)  maybe you know this blog : http://trainworks.blogspot.com/
thanx and greets – jens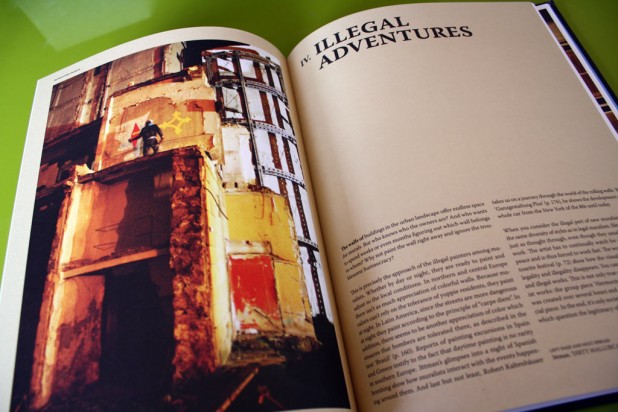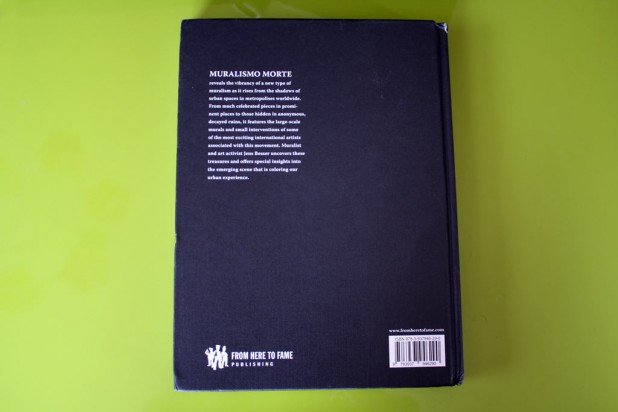 http://jensbesser.blogspot.com/
http://muralismomorte.blogspot.com/
http://www.fromheretofame.com/
Title: Muralismo Morte – The Rebirth of Muralism in Contemporary Urban Art
Author: Jens Besser
Pages: 200, color, ca. 300 Illustrations & photographs
Format: 28.5 x 21 cm (11.22 x 8.27 inches)
Language: English edition
Price Hardcover: 24.95 € | £ 24.99 | US $ 34.95
ISBN Hardcover: 978-3-937946-29-0
To order the book : http://www.fromheretofame.com/books/muralismo.html